Johnston Press share price falls as revenue slide continues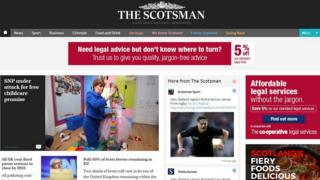 Shares in Johnston Press fell by more than 10% in early trading after the local media group reported a further slide in sales.
The Edinburgh-based group said underlying revenues for the 17 weeks to 31 October fell 8.8% year-on-year.
Sales had fallen by 7.6% in the second quarter.
An 8.4% rise in underlying digital revenues was offset by falls of 10.8% in publishing sales and 14.7% in print advertising revenues.
However, the company said it expected underlying profit and net debt for the full year to be in line with expectations.
Johnston, whose portfolio includes The Scotsman and the Yorkshire Post, said it had remained focused on cost savings, delivering strong cash flows and debt reduction.
It also stressed that digital audience growth remained a priority, reporting that the number of unique users had grown on average by 22% to 21.5 million per month during the period.
'Good progress'
The company stated: "We have continued to focus on offsetting revenue decline with cost reduction, and have made good progress in controlling production, editorial and advertising costs in line with our strategic initiatives: 'News room of the future' and 'Sales force of the future'.
"In October we announced that we had closed or merged 11 small free print titles as part of the portfolio simplification programme.
"This programme has continued with seven further titles being closed or merged, which will help our strategy to align resource to brands and geographies offering the greatest opportunity."
In early trading, Johnston's share price was down by more than 10.5%, at 47.40.