Economists claim coal gasification 'could generate £13bn'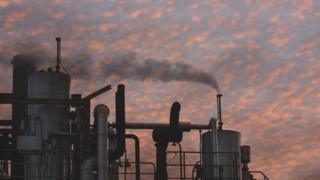 Economists claim converting underground coal into gas could generate £13bn pounds for the UK, with almost half of it being retained in Scotland.
The conclusions came in a report compiled for a firm seeking to extract gas from the Firth of Forth.
Cluff Natural Resources wants to build the UK's first offshore underground coal gasification (UCG) plant in Fife.
WWF Scotland said fossil fuel schemes were distracting from efforts to develop clean renewable energy.
Economic consultancy Biggar Economics put together the report for Cluff outlining the predicted benefits of pioneering UCG in Scotland.
It suggested the move could create up to 11,900 direct and indirect jobs as well as supporting thousands more in the chemicals industry - with nearly 5,000 of these jobs in Scotland and more than 1,000 in the Firth of Forth area.
'Huge potential'
According to the report, an initial project at Kincardine could contribute about £603m extra to the UK economy, 71% of which could be retained in Scotland, providing up to 830 jobs in its creation and supporting about 350 jobs over a 30-year lifetime.
It said other UK UCG projects could generate £5.6bn extra for the UK economy and support an average of 3,300 jobs, peaking at 6,100, with 40% retained in Scotland.
Algy Cluff, CNR chief executive and chairman, said: "The findings of this report highlight the huge potential of the development of a UCG industry in Scotland and the UK.
"UCG has a vital role to play in the diversification of the UK's energy mix and security, and this report demonstrates how the development of UCG would create significant benefits for both the Scottish and wider UK economy."
Report author Graeme Blackett, of Biggar Economics, said: "Scotland is a hydrocarbon and energy-rich country, and this could be an important new industry on a UK-wide basis, supporting many thousands of sustainable jobs.
"Subject to the robust planning and regulatory processes that we rightly have, there are major advantages in being the first movers in this technology, and becoming a world leader."
The Scottish government is pursuing a "careful, evidence-based approach" to UCG and has been working with the Scottish Environment Protection Agency and other regulators "to ensure that appropriate controls and regulations are in place to protect the environment".
Cluff's plans for the Kincardine Project have faced opposition from environmental body WWF Scotland, the Scottish Greens and an SNP faction which has united under the name Smaug (SNP Members Against Unconventional Gas).
'Evidence-based'
WWF Scotland director Lang Banks said: "This report makes some massive assumptions about how quickly the technology might be rolled out and changes nothing about the environmental problems it will bring.
"Perhaps Cluff hasn't spotted it, but there's already an 'energy revolution' happening in Scotland and it's a clean renewable one."
He added: "The science is clear, to protect our climate the vast majority of fossil fuel reserves must remain unburned. In a worst case scenario, Cluff's proposals could even extend our use of fossil fuels, locking us into a high-carbon world."
A spokesman for the Scottish government said: "The Scottish government is clear that the development of new energy technologies, such as underground coal gasification, must be consistent with our environmental objectives and we will continue to take a precautionary, careful, evidence-based approach to such developments.
"No planning applications for underground coal gasification have been submitted in Scotland."