Jobs report shows 'slowing' in economy growth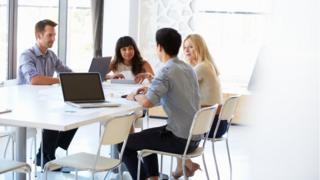 The number of people finding permanent jobs increased at its slowest level for four months in August, figures show.
There was also a slowdown in permanent salary inflation to the weakest level seen for two years, according to a Bank of Scotland report on jobs.
However, average hourly rates of pay for temporary and contract staff increased sharply.
The bank said the report suggested the Scottish economy continued to grow but at a slower rate.
August also saw the fastest rate of inflation since May.
Donald MacRae, chief economist at Bank of Scotland, said: "The number of people appointed to both permanent and temporary jobs rose in August as did the number of vacancies.
"The availability of candidates for jobs declined while starting salaries for permanent staff increased, but at the slowest rate for two years.
"These results suggest the Scottish economy continues to grow but at a lower rate than this time last year."
'Solid' demand
The report also showed the Bank of Scotland Labour Market Barometer - an indicator designed to provide a single-figure snapshot of labour market conditions - dipped to 56.2 in August, its lowest since May 2013.
The barometer was above the 50 "no-change" mark but was substantially lower than the corresponding UK index which reached a three-month high of 61.7.