Britain's fading greenery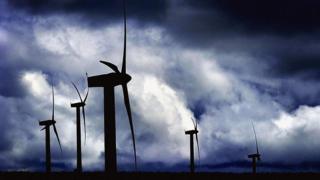 The energy team at business consultancy EY can't expect to get many contracts out of Whitehall - not after a thorough trashing of UK policy.
But they are more likely to win friends within the industry today, having moved Britain down the annual league table of nations' attractiveness to renewable energy investors.
The UK is now at number 11 out of 40, while Brazil and Chile move into the top ten, and the USA regains the top spot from China.
Britain remains number one for offshore wind and number two, after Ireland, for marine energy including tidal and wave.
However, the Conservative majority government elected in May has made a number of changes to the support regime for technologies that have yet to make it commercially viable.
Ministers want to save money for bill-payers, who provide most of the subsidy, and it wants to push the industry to become financially independent. Quite a few Conservatives, while accused of being too friendly to business in general, think the subsidy regime has been far too generous to private business interests in this sector.
They won't shed tears, then, at the difficulty caused by the pace at which subsidies are being revised or phased out early.
Investment chill
However, according to work EY carried out for the trade body Scottish Renewables, the impact has been a chill on investment intentions.
While it says there may be a rush to complete some projects before next spring, when subsidies are withdrawn, other projects are being put on hold. Banks won't lend until the Energy Bill is passed, because they there is too much risk of further change while it is enacted.
EY research suggests that hiatus could amount to £3bn of investment, potentially bringing power to 1.2 million homes, and that's in Scotland alone.
The EY investment attractiveness report is unsparing. It finds common ground with Amber Rudd, the Energy and Climate Change Secretary, in her belief that onshore wind and solar photo-voltaic energy are close to being able to compete without subsidy.
"However, in withdrawing support prematurely, the government arguably risks stalling or killing projects that would otherwise maintain the momentum to get the market to that critical point."
Fracking and nuclear
When it talks of the "almost inexplicable drive to catalyse sectors that are publicly unpopular or relatively expensive," it is referring to fracked gas and nuclear power.
This "exposes major inconsistency in its thinking - namely seeking to reduce consumer energy bills and make broader economic savings, while simultaneously instigating policy measures that slow deployment of some of the cheapest forms of energy in the UK."
"At best it may be a case of misguided short-term politics getting in the way of long-term policy. At worst, it's policy-making in a vacuum, lacking any rationale or clear intent."
Either could sour investment attractiveness, and all the moreso if the same changes could be applied in other sectors.
Oyster grit
That, then, is the backdrop to a conference in Inverness this week, seeking to find a way ahead for the marine energy industry.
Scotland had a lead on wave technology, and probably still has it. But with Pelamis bust and Aquamarine all but out of funding and down to only 15 staff, the two great Edinburgh-based hopes show how difficult it is to get anywhere close to being commercial.
The Scottish government set up Marine Energy Scotland as an agency designed to keep the sector's hope alive, and to co-ordinate effort.
Collaboration is key when this far from market. That's how to draw in German engineering giant Bosch, an Irish university and Aquamarine, together winning a modest European Commission grant (nearly £600,000) to design a sealed power system unit. It is to transmit energy from hydraulic pump to the grid connection on the shoreline. It will take millions, however, to get the third generation of Oyster prototypes into the sea off Orkney.
It is taking time too. It should be possible to launch the Oyster 800's successor later this decade. Small arrays of two or three devices should be in the sea by the middle of next decade. In other words, this is a technology that could be making a significant different in about 25 years or so.
But without funding now, as with wind turbine technology, the expertise and intellectual property will go overseas, to those whose funders are more patient and strategic.
Solar system
And overseas is where a lot of investment is also being attracted to solar power. We have more sunlight than we sometimes think in this corner of north-west Europe, but it's probably not the most efficient place to put your solar cells.
That's why the industry is looking to huge investments in warmer countries.
The EY report cites Bloomberg research projecting £2.5 trillion ($3,700,000,000,000) on solar power alone by 2040, largely because the price of a solar panel has fallen so fast and so far that it has become the most attractive renewable technology. Instead of 2% of installed power-generating capacity worldwide, that could then take solar to 35%.
A future like that looks so bright that it could eclipse some other technologies, including equipment expensively engineered to withstand the ferocious battering of the Pentland Firth.