Sturgeon opens for business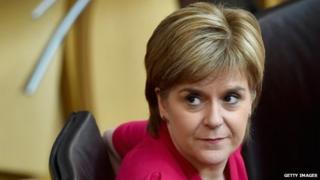 "We will make Scotland the best place in the UK to do business," says the first minister, "not through a race to the bottom, but by focusing on innovation, skills and productivity."
A laudable aim, no doubt, unless you're one of the other parts of the UK intending to achieve precisely the same thing, and by using the same focus.
So in the Programme for Government (and a precursor to the SNP manifesto for Holyrood in May 2016), how does Nicola Sturgeon intend to go about this?
Well, for a start, note that reference to the UK. This is a programme intended to make devolution work for Scotland.
Second: "a race to the bottom" - a term bandied around in the independence referendum campaign, as an attack on SNP plans to undercut corporation tax rates in the rest of the UK.
If that's another policy ditched, it moves on one of the problematic economic arguments for independence - just supposing, say, that there were to be another referendum.
Third: note that this is from a first minister who was - said the commentariat - eager to tack to the left, listening less to business and talking tough on tackling inequalities.
Some of us had our doubts about that reading of Nicola Sturgeon. As a politician in Glasgow, she had learned to talk fluent shipyard, whereas Alex Salmond, in the north-east, was as fluent in fishery quotas. Those were both dialects, based around a core and similar SNP political language.
That said, Nicola Sturgeon used her first programme for government to set out her own stall, showing she has learned an absolutely vital skill in government - how to back out of a cul de sac.
Not having been in government before 2007, the SNP had no experience of that. Under Nicola Sturgeon, it is now learning.
Northern powerhouse
Anyway, back to business - the FM's aim of becoming "the best place in the UK to do business" and to be "the real northern powerhouse".
There followed quite a meaty list. Here's some of it:
• New strategies for manufacturing, for exports, for infrastructure and a Fair Work Convention to promote productivity. That's quite a lot of strategy.
• A £40m fund to plug some of the financing gaps encountered by small but growing firms, with loans and equity stakes.
• A review of the planning system to support housing developments, making it quicker, more accessible and efficient.
• A cut to Air Passenger Duty, once devolved to Holyrood - starting in 2018, and down to half current levels by 2021.
• Continuation of the Small Business Bonus Scheme (hauling smaller traders out of the business rates net) throughout the next Holyrood parliament. That's if the SNP returns to power next May.
• Abolition of fees for employment tribunals.
• Exceeding the affordable homes target of 30,000 by next May, a rural housing fund, and extension of the Help to Buy scheme with £195m over the next three years.
• Legislation to enhance private sector tenants' "security", meaning a curbing of landlords legal rights, with rent controls to be introduced in pressure areas.
Testing times
The main thrust of the programme for government was on improving education standards, which is perhaps the biggest single boost that Holyrood can provide for business and the economy.
That gets a hearty welcome from business. Not a moment too soon, say some.
And the references to standardised testing take me back to a year or so I spent as education correspondent at The Scotsman some 25 years ago, when Michael, now Lord Forsyth, was using almost precisely the same language.
There was a difference. As a Tory minister in the Scottish Office, his intention was to create a market for schooling, in which parents would act as customers, their choices informed by test data, taking power through school boards, and then taking over the running of their schools.
In the defiant politics of the early 90s, the big regional councils, the unions and key parent groups allied to thwart him. It was a political victory, showing how Scotland could make itself ungovernable. And it ensured there would be no truck with Labour and Conservative government moves in England towards self-governing schools.
However, it set back the case for deploying school tests as a tool to set and raise standards, and by nearly a quarter century. It's that case Nicola Sturgeon is now making.
Trade-offs
Apart from schooling, there's plenty business can applaud in the Programme for Government.
But several commitments are double-edged, in that they promise a benefit to one group, but at a cost to another. Brokering these trade-offs is the stuff of government.
So when the fees for employment tribunals - recently introduced by Whitehall - are abolished by Holyrood, trade unions applaud, but business counts the cost. It found the fee-free system onerous in legal fees and management time.
If anyone is satisfied with the planning system, they keep quiet about it. So there's plenty of support for reform.
The problem is that different groups want different outcomes. One recent attempt to reform it got bogged down in environmental groups' insistence that outside parties should have a right to appeal decisions. Unless carefully handled, a further review may only throw up similar conflicts.
A cut in Air Passenger Duty will have the support of travellers in both business and economy class, as well as the tourist industry waiting at the arrivals gate.
But it's one of those tax cuts that leaves a cost, at a time when budgets are tight. Air Passenger Duty has become a Treasury cash cow, raising more than £3bn, of which £250m is notionally attributed to Scotland.
Halving it means a loss of £125m from a very tightly stretched and austere budget. Eventually, more flights and visitors could help boost the economy, perhaps compensating for the cut. That's unless Newcastle and Manchester airports get similar flexibility, under 'northern powerhouse' plans. We could be back to that 'race to the bottom', or at least to the end of the runway.
Landlords
The reform that's most likely to catch flak from business is in new legislation for the private rented sector. Landlords are already preparing a lobbying onslaught.
They're hardly everyone's favourite face of business. But in a troubled housing market, with insufficient housing supply, they say they're providing a vital supply of housing where home ownership and government budgets for social housing cannot.
Budget changes to the tax breaks for buy-to-let investors have made the sector grumpy. If Scottish legislation is to make it more difficult to evict, with more regulation around housing standards, then the landlords are hinting heavily that they can take their investment funds elsewhere.
The wording of the Programme for Government acknowledges the importance of retaining their confidence as investors. But it's clearly going to be a difficult balance to strike, if the different housing lobbies are to be satisfied, and if Nicola Sturgeon is to keep her "radical" wing happy.
A Penny for Scotland?
Perhaps the biggest question for business, economy and much else besides is how the Scottish government is going to use its new tax-varying power.
This winter, John Swinney will have to choose if he wants his budget to benefit from a higher tax rate, or to take the increased squeeze from a lower one. Ignoring the power is no longer an option. The Scottish Rate of Income Tax (SRIT) will have to be set, and voted on.
And for all that there is a list of policies to support business growth, it comes with a longer list of policies for public services, carrying a hefty price tag.
The challenge from Chancellor George Osborne, repeated this week on his visit to Faslane and Aberdeen, is that the SNP government will no longer be able to say spending decisions are imposed from Westminster, when it has the power to vary revenue in Scotland.
As Brian Taylor observes, the likely outcome is that Mr Swinney will stick with the current tax rate for now, keeping it in line with the rest of the UK. Cutting it and cutting revenue cuts against the anti-austerity rhetoric: raising it doesn't look like this being "the best place in the UK to do business".
And the Programme for Government offers the reasoning why, when it discusses SRIT:
"These income tax powers offer inherently limited flexibility as any rate changes must be applied equally to all tax bands.
"We continue to argue, therefore, for the transfer of the further income tax powers in the current Scotland Bill at the earliest opportunity.
"The ability to set thresholds and vary rates by band will allow us to design an income tax policy which supports Scotland's circumstances and is in line with our principles of fair taxation."
That looks like an argument we're going to hear a lot ahead of next May's election.