Milk protests at supermarkets in Kilmarnock and Ayr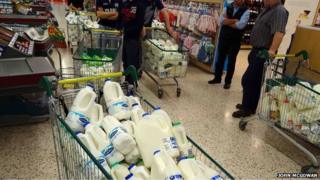 Scottish dairy farmers have staged protests at supermarkets in Kilmarnock and Ayr over the price paid for milk.
They said 19 farms in Scotland had gone out of business this year and more were on the brink of bankruptcy.
On Monday, a team of farmers filmed themselves buying all the milk off the shelves in several supermarkets.
Similar protests have taken place elsewhere in the UK over the past few days.
The farmers have claimed they are losing about £200 a day to produce Scottish milk at the current prices paid by the supermarkets.
'Returns not there'
In January, Scottish Environment Secretary Richard Lochhead called for action at a European level to aid dairy farmers after the price of a two-litre carton of milk dropped to £1.
Gavin Morton was among those taking part in the protests. He told the BBC the future was "not good" for dairy farmers.
"The milk price is just very poor," he said.
"I have a son but I would not encourage him into farming. The costs involved in setting up a dairy business now are phenomenal and the returns are just not there."
Bryce Cunningham, another dairy farmer who helped organise the Scottish protests, told BBC Radio Scotland that the current situation was "extremely difficult".
"At the moment we're being being paid 15p a litre for every litre of milk that we produce. It's costing me 24p to produce this milk," he said.
"There was a recent study done and it was found that more than 51% of the people surveyed did say that milk was too cheap and that it was something they would be prepared to pay more for."
Darren Blackhurst, commercial director at Morrisons group, said: "We try to pass on lower prices to our customers wherever possible.
"We do recognise however, due to reduced global demand, that this has created an oversupply of British milk, creating difficult conditions for many dairy farmers at present.
"At a constructive meeting on Wednesday with the NFU Dairy Board chairman, we confirmed that Morrisons is not accepting any further cost price decreases from our suppliers driven by the falling farm gate milk price."
Farmers said it costs between 30 and 32p to produce each litre of milk, according to British dairy organisation AHDB Dairy.
Figures published by AHDB Dairy showed the average UK farmgate price was 24.06p per litre in May, a decrease of 25.4% of the amount paid to farmers in May last year.