Number of homes entering Scottish market 'surges'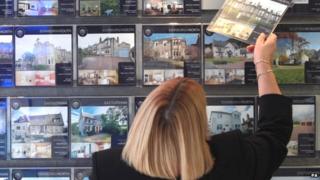 The number of homes coming onto the market is rising faster in Scotland than anywhere else in the UK, according to a new report.
The Royal Institution of Chartered Surveyors (Rics) found a post-general election surge in new instructions in Scotland last month.
A total of 30% more surveyors noted an increase in demand from new sellers.
That bucked the trend south of the border and in Northern Ireland.
In other findings, 23% more respondents reported a rise in inquiries from new buyers in Scotland.
A net balance of 43% of members also said they had seen an increase in house prices, compared with those who had not.
A similar percentage said they expected prices in Scotland to continue rising over the next three months.
Rental market
Rics' latest UK residential market survey also concluded that supply to the rental market in Scotland remained "buoyant", with 25% more respondents receiving new instructions.
This was the second highest figure in the UK last month, after Wales.
Rics Scotland director Sarah Speirs said: "The property market in Scotland frequently defies trends across the UK, and that's particularly evident in May.
"While the rest of the UK has seen a fall in the supply of homes being sold and being put up for rent, that's not the case in Scotland.
"Rics members are also reporting a steady increase in demand from buyers.
"It is further expected that prices will continue to rise both in the next few months and over the course of the next year."