Celtic's football brand ranked 34th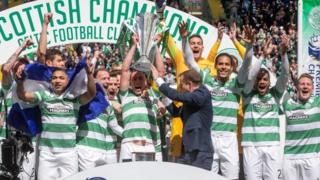 Celtic football club is reckoned to have a brand value of £79m in the annual rankings by Brand Finance.
The marketing consultancy has placed the Glasgow club in 34th position in the world league table of brand value.
English teams dominate the rankings, with Manchester United's brand valued at US$1.2bn, or ten times that of Celtic.
The £5.1bn TV rights deal struck last year has helped propel English league clubs up the brand table.
Manchester City and Chelsea are also benefiting from sponsorship deals with a marketing reach into global audiences for football.
Brand Finance's annual reckoning suggests Celtic's valuation, at $120m (£79m), is up 43% on the previous year's figures.
International markets
In 34th position, Celtic is just below Turkish team Fenerbahce and one place above Italian club AS Roma.
But the Scottish Premiership champions appear below 14 English clubs, including Stoke City, Sunderland and Crystal Palace, as well as Swansea City.
The Welsh club is a new entrant to the top 50 league, thought to be worth $140m (£92m).
Celtic lie just ahead of West Bromwich Albion, worth $102m (£69m).
The Brand Finance report said football clubs were using their brands to build merchandise income, as well as trying to expand their fan base in to international markets.
But it warned that club bosses had to be sensitive to fans who saw the club crest, logo or shirt as their own, rather than having commercial power.
The Wonga shirt sponsorship deal with Newcastle United is seen as one that worked very badly for the payday lender, and was also unpopular with fans at St James Park.
The report also reflects on the problems afflicting FIFA in recent weeks, saying its reputation has suffered a brand valuation loss of $400m (£260m), falling to £1.8bn ($2.8bn).
It also warned that the main FIFA sponsors may suffer from links with the corruption allegations around the international football association, with the top eight sponsors, led by Coca-Cola, together having brands worth $100bn (£66bn).