Peterhead given back-up power deal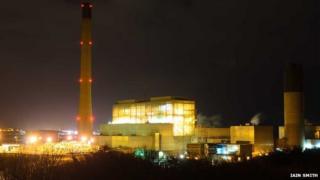 Peterhead power station is being funded by the National Grid operator to provide back-up generation.
The gas-burner will have 750MW of capacity on stand-by in case other power sources fail.
The move follows concerns that there will be insufficient reliable power in Scotland after the shut-down of the vast Longannet coal-burning plant in Fife.
The closure is expected to take place within the next nine months.
Smaller contracts have been agreed in other parts of the country, including Killingholme in Lincolnshire and Deeside in North Wales.
The total cost is £36.5m, according to National Grid, providing up to 2.56GW of power across Britain.
Three other SSE sites are to provide a much smaller 90MW total of back-up capacity; Keadby, Fiddler's Ferry and Ferrybridge.
With an increasing share of electricity generated by wind, and limited cable capacity to import power from English power plants, Peterhead has been chosen to provide emergency cover if other sources of power do not meet demand in Scotland. A similar contract was signed to cover last winter.
Upgraded and expanded
The contract with Perth-based owner SSE is for only one year, and would have the capacity to supply about 400,000 homes. The grid is being upgraded and expanded to allow for more transmission of power from plants south of the border, but these are not yet complete.
In addition, Peterhead power station is being funded to provide voltage support to ensure a steady and reliable power supply, and it is still being considered for government support as the site for a large-scale trial project in carbon capture and storage.
Jim Smith, the company's managing director for energy portfolio management, said: "SSE has continually invested in the Peterhead site since it opened in 1980 and we're pleased it will continue to play an important role in ensuring National Grid can provide system stability and resilience going forward."
Cordi O'Hara, director of market operation at National Grid, said: "As operator of the electricity system, it's our role to ensure we've got the right tools in place to balance the system in even the toughest winter conditions.
"Our competitive tender has secured the reserve we need to do our job, as early as possible, while providing market certainty and keeping costs down for consumers."