Jet2.com to launch 12 new routes at Edinburgh Airport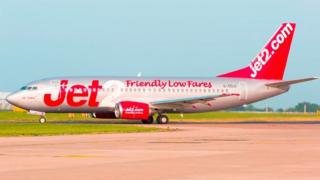 Budget airline Jet2.com has announced a major expansion at Edinburgh Airport, with 12 new destinations.
The company said 150 jobs would be created following the launch of the new routes by Jet2.com and Jet2holidays next year.
They include Antalya, Crete, Dalaman, Gran Canaria, Lanzarote, Paphos, Rhodes, Tenerife, Kefalonia, Larnaca, Vienna and Zante.
An additional aircraft will also be brought in at Edinburgh.
It will provide more seats to seven existing destinations - Alicante, Faro, Ibiza, Majorca, Malaga, Menorca and Reus.
Jet2.com and Jet2holidays will start flying to the three new Canary Island destinations of Gran Canaria, Lanzarote and Tenerife in February. The other routes will be phased in later in the year.
Edinburgh Airport chief executive Gordon Dewar said: "This is great news for Scottish passengers and marks the biggest growth for an airline and holiday company at Edinburgh Airport since we became an independent company.
"Not only will we see Jet2.com and Jet2holidays nearly double their route network from Edinburgh, they'll also increase aircraft seat capacity by 55% by basing a fifth aircraft here, meaning thousands more passengers each year travelling through Edinburgh Airport.
"Excitingly we'll see the introduction of the first service between Edinburgh and Vienna which is a particularly important destination for us to serve."