Scotland's oil and gas supply chain sees 'record' sales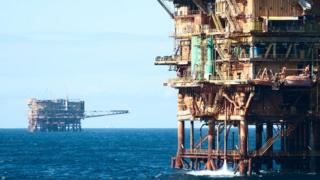 Sales from Scotland's oil and gas supply chain grew by 11% to a record £22.2bn in 2013, according to figures released by Scottish Enterprise.
The sector recorded sales of about £7bn through international subsidiaries, up from £6.3bn in the previous year.
Direct exports from Scotland grew by 13% over the same period, reaching a total of £4.2bn.
Domestic sales for Scottish-based supply-chain firms were also up, from £9.9bn to £11bn.
North America continued to be the top region for international sales, followed by the Middle East and Asia Pacific.
Singapore, Qatar, the Netherlands, Iraq and the UAE all joined the top 10 country rankings for international sales during the year.
'Record performance'
David Rennie, from Scottish Enterprise, said the survey showed the importance of the industry to the Scottish economy but acknowledged it faced a challenging future.
He said: "Although the figures predate the recent sharp fall in oil prices, it's important to highlight that the sector successfully delivered another record performance in 2013."
He added: "Looking ahead the sector faces some considerable challenges. Cost efficiency and collaboration will be key in helping to address these, as well as focusing on our competitive advantage internationally, in decommissioning and emerging areas such as digital offshore."
Energy minister Fergus Ewing said: "Despite the recent fall in oil prices and the challenges now facing the industry, this report demonstrates that our supply chain is well-placed to tackle and overcome those challenges."
"There are huge opportunities open to us internationally and we are determined to make the most of those through continued support and development of our domestic supply chain, enabling it to maintain and strengthen its competitiveness internationally."
The survey combined feedback from 434 businesses employing more than 23,000 people in Scotland.