Fraser of Allander: Economy growing despite oil price drop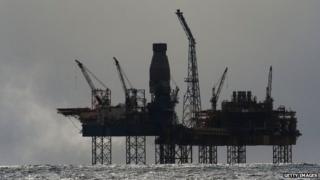 The Scottish economy will continue to pick up pace, despite the lower oil price having an adverse impact on the oil and gas industry.
The Fraser of Allander Institute's regular forecast shows the boost to oil users in Scotland outweighs the harm to North Sea producers.
The institute said tightening public spending could still hurt the economy.
But it said "strengthening" investment was a reason to expect higher growth than it had forecast in November.
The University of Strathclyde institute's report's conclusions run counter to the view of the Bank of England governor, Mark Carney.
He said he expected the UK economy to be helped by lower oil prices, while the Scottish economy would not be.
The oil and gas industry in Scotland has been hit by job losses, with BP, ConocoPhillips, Talisman Sinopec, Shell, Chevron and Schlumberger all announcing cuts in recent months.
However, analysts pointed out that low oil prices, while bad news for the oil and gas sector, could in fact boost wider recovery in Scotland as consumers raise spending and investment picks up.
Brian Ashcroft, emeritus professor of economics at Strathclyde University, said: "The falling oil price and recovering investment could provide a welcome boost to the recovery just as there are signs of some slowing in the rate of growth in most major economies except the US, and as the troubles in the eurozone worsen with the increased risk of deflation and a distinct threat of Greece exiting the euro.
"The absence of good data and uncertainty about future oil prices allow only a crude estimate of the impact on the Scottish economy of the fall in oil prices.
"Nevertheless, we estimate that the impact on employment this year could range from 9,700 net additional jobs to a net job loss of 600 on best and worst case scenarios."