Inver House Distillers set to boost capacity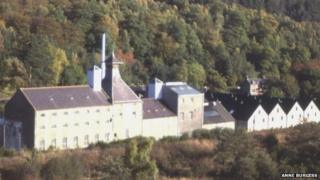 A whisky distiller is to boost its production capacity after securing a £10m financing package with Bank of Scotland.
Airdrie-based Inver House Distillers will use some of the cash to build 12 new warehouses, which will allow it to store an extra 120,000 casks of whisky.
It also plans to double production capacity at its Speyburn distillery at Rothes in Moray.
Inver House produces the Old Pulteney, Balblair, anCnoc and Speyburn brands.
The company said it was increasing capacity in order to meet demand for growing international markets.
Inver House was established in 1964 and currently employs 204 people across its six sites in Scotland. It generates annual revenues of about £80m.
The company's key export markets include Germany, Russia, Sweden and the US.
'Buoyant industry'
Managing director Graham Stevenson said: "The success of our brands on the global stage, specifically Speyburn, means that we're very much in growth mode.
"The whisky industry is buoyant, despite various economic and political uncertainties around the globe.
"The longer term demographics and prospects of the emerging markets are very positive and we need to be prepared for these opportunities.
"The additional warehouse facility will provide us with much-needed storage space that will allow Inver House Distillers to capitalise on the forecasted industry growth."