Scottish biorefining 'a key new sector'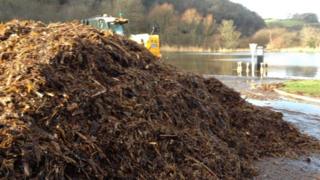 High-value chemicals made from seaweed and industrial waste are being treated as a key new sector for support by the Scottish government.
Among other opportunities for "biorefining" in Scotland is the use of forestry cuttings and residue from whisky distilling.
Biorefining is already estimated to be worth nearly £200m to the Scottish economy.
The aim is to reach £900m per year by 2025.
Highlighting the strength of Scottish science research, Scottish Enterprise, the government development agency, sees the new sector as being a source of inward investment.
The country's main strength is in processing industrial and household waste.
Timber technology
This can also be used as an energy source, but has potential for higher-value chemicals.
Timber products, including the tree stumps and thinnings that are not currently used, can also be biorefined.
Norway has taken the lead in this timber technology, and that know-how could be imported.
Macroalgae, or seaweed, also offer potential advantages to grow the industry in Scotland.
The Scottish Enterprise "roadmap" for developing the sector states that most interest worldwide is focussed on producing ethanol and n-butenol, from which further processing can produce higher-value polyactic and succinic acids.
The agency says that companies will require support with trial and development stages, as well as ensuring they can produce commercial products which compete with oil-based chemicals.
Supply chain
The aim is also to develop a supply chain to sustain such an industry in Scotland.
Among companies already active in the field is CelluComp in Burntisland, Fife, which uses plant root fibres to make a product which can replace oil-based lubricants in paints, coatings, cosmetics, concrete and drilling fluid.
Celtic Renewables, based at Edinburgh Napier University, is ready to build a commercial scale demonstration plant for the biofuels it can make from whisky distilling waste.
Ingenza, at Roslin near Edinburgh, uses bio-processing to help in the production of chemicals and pharmaceuticals.
Managing director Ian Fotheringham said: "Scotland is uniquely blessed with abundant non-food biomass on land and under our seas.
"Together with our strong industrial biotechnology capabilities in both academia and industry, Scotland is well positioned to capitalise on the massive potential that biorefineries could contribute to the development of a more sustainable economy."