'More women' joining Scottish legal profession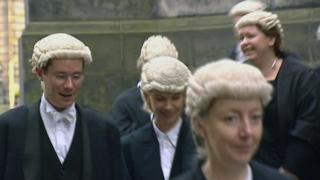 Almost two-thirds of entrants into the Scottish legal profession are women, the Law Society of Scotland has said.
It has published figures on traineeships, suggesting an improvement on some lean years for the industry.
In 2013-14, the professional body found there were 530 contracts offered, up from fewer than 500 in the previous three years.
The rate at which trainees were moving into full employment was up from 88% last year to 93%.
Taken over the past five years, 63% of those who began traineeships were women.
There was a strong bias towards the central belt, with 78% of traineeships there. Of the 530 trainee contracts offered, 209 were in Edinburgh and 155 in Glasgow.
Katie Wood, of the Law Society of Scotland, said: "It's encouraging to see an increase of 11% and it's also promising that the number of recently-qualified trainees being employed as solicitors has risen.
"The Society's traineeship statistics are a useful indicator for people considering the next step in pursuing a career as a solicitor, in particular those thinking of doing the Diploma in Professional Legal Practice.
"Those seeking traineeships should be encouraged by the latest statistics, however it is still a competitive market."