Irn Bru firm buys Funkin cocktail company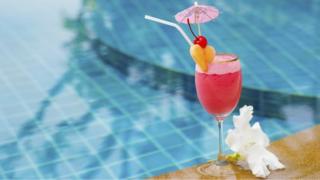 Irn Bru maker AG Barr has bought cocktail company Funkin in a deal worth a potential £21m.
Barr, which is based in Cumbernauld, said the deal comprises an initial £16.5m, with a further £4.5m if financial performance targets are met.
Funkin was founded in the late 1990s and offers a range of cocktail products including fruit purees, cocktail mixers and syrups.
Barr said the UK cocktail market had shown "strong growth" in recent years.
It said cocktail consumption has become more mainstream, with consumers seeking "more differentiated drinking experiences."
A statement from Barr added: "Funkin has been well placed to capitalise on this trend as its products enable outlets, including bars, pubs, clubs and restaurants to provide consumers with high quality cocktails efficiently and consistently.
"As a result, the Funkin brand has achieved a high level of recognition and strong relationships with its customer base, supported by a number of marketing initiatives and its well deserved reputation for quality products and creative innovation."
Brand recognition
Funkin, which had sales revenues of about £9m last year, is predominately in the UK but does have fledgling business units established in the US and Europe.
Barr will seek to use its routes to market, as well as its branding and marketing expertise, to increase Funkin's presence and brand recognition.
Funkin chief executive Andrew King will remain with the business under Barr's ownership, and Funkin will operate within the Barr group as a supported, yet stand alone, business unit.
For AG Barr, the acquisition suggests a stronger emphasis on the on-trade of bars, restaurants and clubs. With potential to tap into more cocktail drinking in the US and elsewhere in Europe, it could also help with the export of Barr's existing brands.
The acquisition adds to the Rubicon brand of fruit drinks which AG Barr bought in 2008. The company is soon to start production at its new Milton Keynes manufacturing plant.
Barr chief executive Roger White said: "We are delighted that Funkin will become part of AG Barr. We believe that Funkin has created a unique niche in a growing market and together we can drive exciting growth in a new sub category.
"We have a proven track record of acquiring and developing high growth brands such as Rubicon. Under our ownership we believe Funkin is even more strongly positioned to take advantage of a number of exciting growth opportunities."