Scottish international manufactured exports up by 1.8%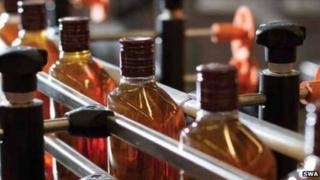 Scottish manufactured export sales grew by 1.8% during the third quarter of 2014, according to official figures.
Overseas exports of refined petroleum, chemical and pharmaceutical products grew by 8.9% over the quarter, while food and drink exports rose by 0.6%.
The volume of exports fell by 0.5% on an annual basis.
However, some sectors saw an increase over the year, including non-metallic products (+10.1%) and metals and metal products (+12.3%).
Textiles, clothing and leather also grew by 5.7%, according to figures released by the Scottish government.
However, engineering and allied industries recorded a quarterly fall in export volumes of 1.1%.
The fall was attributed to a contraction in transport equipment (-10.9%), which more than offset growth in mechanical engineering (+1.4%) and electrical and instrument engineering (+2.0%).
Export volumes from the non-metallic products, other manufacturing and repair sector were also down over the quarter (-2.9%).
'Promising outlook'
Scottish Chambers of Commerce chief executive Liz Cameron said: "These figures represent a strong performance by our manufacturing businesses, even against a backdrop of significant economic issues facing a number of our key international markets.
"Our business members in the manufacturing sector have reported continued growth in exports onwards into the fourth quarter of 2014 but most of this growth is taking place in exports to counties outside of the European Union.
"Businesses are also telling us that they expect a further pick-up in international trade in 2015.
"There is a good deal of optimism in the manufacturing sector and this has to be good news for the Scottish economy.
"Added to this is the fact that over a third of our exports are from our service sector, and with these businesses also expecting a pick-up in 2015, the outlook is very promising indeed."