New cell therapy facility at Eurocentral gets green light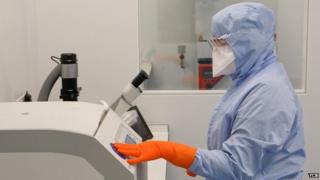 Biotech firm TC BioPharm (TCB) has announced that it has been cleared to develop human cell therapies at its clinical manufacturing facility in North Lanarkshire.
TCB said the Medicines Healthcare Products Regulatory Agency (MHRA) had granted a licence to its Maxim Park facility at Eurocentral.
TCB uses patients' own immune cells to target cancer and viral infections.
The company now plans to treat the first cohort of patients this year.
It will work alongside established cancer clinics throughout Scotland.
The multi-million pound facility includes two cleanrooms, as well as process development laboratories and a quality control suite.
TCB said the facility was set to become a hub for immuno-cell therapy research, to benefit cancer patients in the UK and Europe.
Chief executive Dr Michael Leek added: "Investing substantial amounts of cash and manpower upfront to build this amazing, state-of-the-art cleanroom facility has paid dividends for TC BioPharm.
"As we move our immunotherapy platform towards clinical studies in cancer, the MHRA license accelerates us to the forefront of UK cell therapy, representing a key commercial milestone, adding significant value for our investor-base as we progress during 2015."