David Thorburn quits as Clydebank Bank chief executive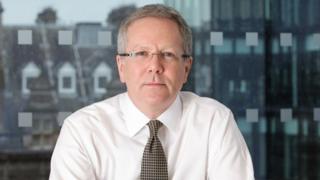 Clydesdale Bank chief executive David Thorburn has stepped down after nearly four years in the role.
The move was confirmed by parent company National Australia Bank (NAB).
NAB said late last year that it was looking for ways to exit the UK, where it also owns Yorkshire Bank, after several years of poor performance.
The bank did not name any successor to Mr Thorburn, who said "now was the right time" for him to stand down and allow for new leadership.
In October, NAB announced it was looking at all options for the future of the Clydesdale and Yorkshire banking division.
Those options could include a sale or initial public offering of the business.
The UK business has been hit with high charges to compensate customers for Payment Protection Insurance mis-selling.
It has also set aside £250m to repay businesses which were mis-sold complex financial products intended to protect against interest rate volatility.
'Significant undertaking'
In a statement, Mr Thorburn said: "I'm proud of the work my team and I have undertaken during my tenure as CEO, and I leave knowing that Clydesdale and Yorkshire banks are in much better shape.
"However, having been CEO for almost four years, I came to the view that it was in the best interests of the business for me to stand down at this time and allow an injection of new leadership to take place.
"I believe that the business requires a five-year commitment from me, particularly as NAB looks at options to accelerate the exit from its UK banking business and I felt this was a significant undertaking."
Clydesdale Bank chairman Jim Pettigrew said Mr Thorburn had led Clydesdale and Yorkshire banks through a challenging period.
He added: "David successfully completed the UK strategic review in 2012, which was undertaken to identify the changes needed to deliver sustainable and satisfactory returns from the UK banking business.
"As a result of David's efforts, the UK banking business is in much better shape, with the 2014 results showing improvement in a number of areas including asset quality and a lower risk loan book."