Campaigners call for more living wage employers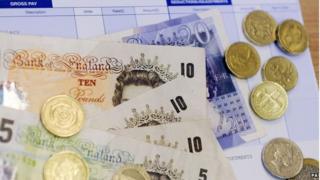 Campaigners are calling for more Scottish businesses to become official living wage employers in the new year.
More than 30 organisations have become accredited since a special campaign on the living wage was held in November.
Scotland now has a total of 94 public and private enterprises involved in the initiative.
Businesses who have signed up must pay all their staff at least £7.85 an hour - £1.35 per hour more than the national minimum wage.
Hosted by the Poverty Alliance, the Scottish Living Wage Accreditation Initiative provides support and advice to organisations that wish to pay the living wage.
Recent additions to the scheme include Heart of Midlothian Football Club, law firm Digby Brown, the Scottish Parliament and Scotwest Credit Union Ltd.
The Scottish government has guaranteed the living wage to its own staff and encourages other employers to adopt it.
Of the 32 new organisations that have joined the accreditation scheme, 70% had fewer than 50 employees and 38% had fewer than 10.
The majority of the newly-accredited organisations were private sector companies.
What is the living wage?
The living wage is based on the amount an individual needs to earn to cover the basic costs of living.
Because living costs vary in different parts of the country, there is a different rate for London and the rest of the UK.
It is promoted by the Living Wage Foundation.
The living wage is an informal benchmark, not a legally enforceable minimum level of pay, like the national minimum wage.
It is calculated by the Centre for Research in Social Policy at Loughborough University, while the London living wage has been calculated by the GLA since 2005.
The living wage is set at £9.15 an hour in London and £7.85 an hour in the rest of the UK.
By comparison, the national minimum wage is significantly lower.
Peter Kelly, director of the Poverty Alliance, said: "We have seen a significant increase in inquiries from employers about living wage accreditation since Living Wage Week at the start of November, when we reported that the number of living wage employers in Scotland had tripled to 60.
"This is great news, especially for those workers that get a pay rise as a result.
"It is clear that in-work poverty will remain a real problem for thousands of workers in Scotland in 2015, but if more employers commit to paying the living wage we can begin to make a real impact.
"The living wage is a key way of ensuring that more workers have a prosperous new year."