Scottish average monthly rents 'hit all-time high', says report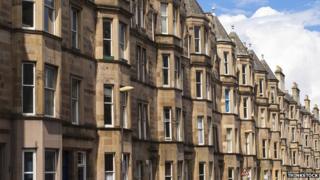 Scottish rents have reached an all-time high while tenants' finances are "stuck in a rut", according to a new report.
Lettings agent Your Move found the average monthly rent in Scotland rose to £539 in November - 2.2% up on a year ago.
Its buy-to-let index also showed the proportion of tenants in arrears rising by 0.3% to 6.6%.
The total annual return for landlords on a typical rental property rose to 8.4% - up from 5.6% in November 2013.
While tenants are paying out £6,324 a year - an annual rise of £144 - the average annual return for landlords now stands at £12,913.
That figure accounts for house price growth and vacant periods between tenants. It does not include any mortgage payments or other deductions.
Your Move said that while rents in Scotland had crept up to an all-time peak, there had been an overall cooling in annual growth over the year.
Last year the annual rise was 3.5%.
The biggest year-on-year increase in average rents was recorded in Edinburgh and the Lothians, which saw a rise of 6%, or £35.
This was followed by a 3.2% annual rise in the East, while figures for Glasgow and Clyde were up 2.5% on the same time last year.
Average monthly rents in the South were 1.2% lower, falling £6 in the past 12 months.
The Highlands and Islands also experienced a 0.6% drop on an annual basis.
Your Move regional managing director Christine Campbell said: "Scottish rents have been steadily edging forwards and despite only taking baby steps, they reached a new pinnacle in November.
"Demand and supply are still out of kilter and in highly sought-after employment and cultural nerve-centres like Edinburgh, this overflowing competition for homes to let has topped up rent prices.
"The outlook has shifted starkly from the start of this year and annual rent rises have been trimmed back to healthier levels as usual market forces check the rate of growth."
She added: "Many households will be basking in confidence at the boosted spending power in the run-up to Christmas this year as inflation continues to tumble.
"But this is only one factor that pulls on household purse strings and overall tenant finances across Scotland appear to be stuck in a rut without any clear improvements over the past year."