Hotels 'heading for best year since before recession'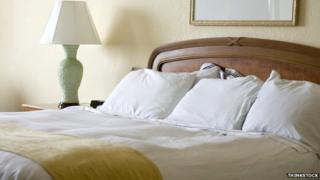 Scotland's hotel sector is well on the way to enjoying its best year since before the recession, according to a new report.
Business advisers BDO found conferences and festivals helped boost revenues at city hotels in September.
Rooms yield rose by 35.1% in Glasgow to £73.19 and by 27.2% to £98.47 in Edinburgh.
Inverness experienced an 11.2% rise to £56.91, although Aberdeen saw a fall of 5.9% to £80.95.
Occupancy rates also rose across Scotland, with Edinburgh leading the way at 93%, followed by Glasgow (90.9%).
The firm said that Edinburgh's revenue was boosted by festivals and several conferences, including the World Congress on Cancers of the Skin.
Glasgow continued its strong summer after the Commonwealth Games, with more than 8,000 delegates attending two major conferences.
'Positive figures'
Alastair Rae, from BDO, said: "These figures show the hotel sector's positive summer has continued into the autumn.
"Edinburgh and Aberdeen had the top two revenue figures outside London during September."
Overall, Scotland saw a 21.4% increase in rooms yield to £81.49 - slightly behind Wales, which had a 21.5% increase.
Rooms yield in regional UK increased by 14.7% to £55.65 while in England it rose 13.1% to £51.69.
Scotland had the highest occupancy level at 89.1%.
'Interesting barometer'
Mr Rae added: "The hospitality sector is an interesting barometer of the strength of the wider economy as it tends to be the first area to be cut back both in the leisure and business markets, and among the last to be reinstated when the market recovers."
Meanwhile, a report by hotel comparison website trivago.co.uk indicated that Edinburgh is the second most popular destination for UK travellers on Hogmanay.
It found hotel prices in Edinburgh have increased by an average of 146% for 31 December.
That put the city behind London but ahead of Amsterdam.