Scottish unemployment fall by 11,000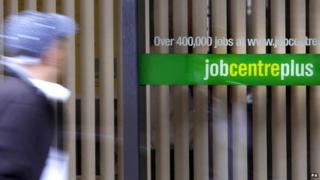 Scotland's jobless total fell by 11,000 between August and October to stand at 156,000, according to official figures.
The Scottish unemployment rate is now 5.6%, which is below the overall UK rate of 6%.
Female employment increased by 21,000 over the quarter to reach 1,288,000 - the highest level on record.
However, figures from the Office for National Statistics also showed that employment in Scotland fell slightly. It now stands at 2,605,000.
The number of people claiming Jobseeker's Allowance fell by 2,100 from October to 87,300 in November.
The figure is 28,400 lower than the total on a year ago.
Youth unemployment in Scotland has fallen by about 26% in the last 12 months and is now at its lowest level for five years.
'Global challenges'
The UK government's Scottish Secretary Alistair Carmichael said: "This year has seen Scottish employment increasing to record levels and unemployment down to rates seen before the financial crash.
"In 2014 people in Scotland voted to stay part of the UK which provides more jobs and more opportunities across the country and greater economic security and stability for businesses and communities.
"The small decline in employment this month emphasises the wider global challenges we are facing but, with employment having increased by 52,000 over the past year, the outlook for the year ahead is positive."
Scottish Skills and Training Secretary Roseanna Cunningham also welcomed the figures.
She said: "Today's figures demonstrate the success of the work we are doing to improve employment opportunities for all in Scotland.
"Once again Scotland is leading the way with the highest employment and economic activity rates and lowest unemployment rate of the home nations of the UK.
"There will be no let-up in the New Year and it will be a strong priority of this government to use all of the powers we have at our disposal in 2015 to increase employment, tackle unemployment and improve access to the labour market for everyone in Scotland.
"More powers would allow us to take our work even further."
Scottish Labour's skills and training spokesman Neil Findlay said: "We welcome the fall in the number of people unemployed in Scotland.
"But these statistics are no cause for celebration. More needs to be done, particularly to tackle the scourge of youth unemployment."
'Good news'
Scottish Chambers of Commerce chief executive Liz Cameron said it was important to place the figures in context.
She said: "Over the past year, the private sector in Scotland has created nearly 73,000 jobs at a time when public sector employment has fallen by almost 38,000.
"This is good news since this is a healthy sign of some long overdue rebalancing of Scotland's economy.
"Scotland's private sector now employs over two million people, including a record number of women in employment, and this demonstrates the need for government policies at all levels to focus on enabling businesses to grow, to create wealth and jobs and to increase productivity."
The Federation of Small Businesses (FSB) said every growing small firm would have "played a part in reducing unemployment" in Scotland over the year.
Scottish policy convener Andy Willox added: "To maintain this trend in 2015, we'll need to keep focused on supporting Scottish small businesses to drive growth, create jobs and underpin communities.
"Our research shows that many businesses are wary about the year ahead and so we need to redouble our efforts to give firms the confidence to succeed."