Scottish retail sales slip despite more shoppers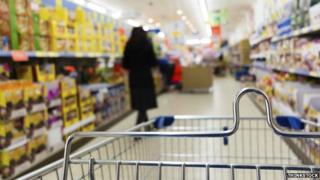 Retail sales in Scotland fell last month, despite a rise in the number of shoppers on the high street.
A report by the Scottish Retail Consortium (SRC) and KPMG found overall sales were 1.4% down on a year ago.
Non-food sales were 0.7% lower than the same month last year, while food slipped by 2.3%.
However, SRC added that when the effects of shop price inflation were taken into account, total Scottish sales increased by 0.4%.
Furniture and household appliances recorded their best performance since January, with gaming and beauty products also doing well as a result of early demand ahead of the festive season.
Online sales contributed strongly to non-food sales, with double-digit growth recorded on and around Black Friday at the end of last month.
Retailers had been hoping for stronger figures after recording an increase in shopper numbers on Scotland's high streets for the fifth month in a row.
Retail analysts said the totals were up 0.9% in November compared with a year ago and 0.5% on the previous month.
SRC director David Lonsdale said: "Food sales continued to disappoint, although retailers noticed early evidence of speciality food items being purchased particularly towards the end of last month, which are likely to be Christmas-related purchases.
"With fierce competition and promotions pushing shop price inflation to new lows, retailers will be hoping for some Christmas cheer with a far stronger showing across a wider range of product categories in December, in what is after all the most important trading period of the year."
KPMG head of retail David McCorquodale said: "The weather and consumer behaviour is piling pressure on retailers to deliver Christmas cheer.
"The decline in November sales shows how hard retail has to fight for share of family wallet.
"With mild weather continuing in November and consumers opting to wait for a bargain before spending, fashion retailers used Black Friday as an outlet to reduce prices, drive volumes and clear stocks.
"Originally seen as an American gimmick, Black Friday is now fixed in the retail calendar and is being used tactically to drive volume - but at what cost to margin?"