Calvin Harris named 'highest-paid DJ' by Forbes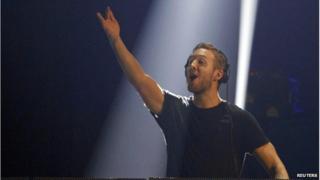 Dumfries-born Calvin Harris has earned more this year than any DJ has previously done, according to American business magazine Forbes.
His appearances and studio production are thought to have earned the 30-year-old $66m (£42m) during 2014.
That has put him in ninth place on Forbes' list of the world's highest-paid musicians.
Top of the list are Dr Dre ($620m), Beyonce ($115m), The Eagles ($100m) and Bon Jovi ($82m).
Born Adam Wiles, Harris started out as a shelf-stacker at a store in his home town of Dumfries.
He has since made several of his own albums and written and produced records for stars such as Kylie Minogue, Dizzee Rascal and Cheryl Cole.
Last month, the DJ withdrew from the MTV European Music Awards because of illness.
On Twitter, he was reported to have said: "No EMAs for me this weekend. Got some heart problems. Heading home to see if it can be fixed x."