Cloud firm Iomart reports sharp rise in revenue and profits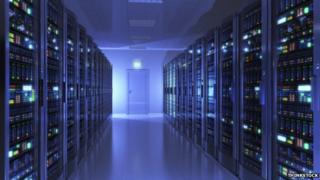 Hosting and cloud computing firm Iomart has posted a sharp rise in revenue and profit, helped by several acquisitions.
Revenue climbed by 28% to £31.5m for the six months to the end of September, while pre-tax profit was up 26% at £5.5m.
Glasgow-based Iomart said it continued to benefit from buying rival Redstation and cloud backup and disaster recovery firm Backup Technology last year.
They helped push up revenues in its hosting arm by 37% to £26.1m.
Stripping out their contribution, organic growth in the segment was 8% - slightly lower than the company forecast.
Revenues from its Easyspace division remained flat over the period at £5.5m.
Iomart said the new top-level domains (TLD) which had come on the market had "not played out as many in the industry expected but it has had a positive impact on Easyspace as existing customers defensively buy their own names".
'Growing trust'
Last week Iomart was chosen to be part of Microsoft's new Cloud Solution Provider programme.
IT storage hardware firm EMC has also selected Iomart as its European partner for the launch of its Enterprise Hybrid Cloud.
The company has made another acquisition since the reporting period, buying London-based cloud hosting provider ServerSpace Limited for a maximum sum of £4.25m.
Iomart chief executive Angus MacSween said: "The market opportunity remains large and long term and, in a fast-moving and ever-evolving industry we have the skills and experience to continue to perform well.
"Our focus going forward is on continuing to deepen our relationships with the large Tier 1 vendors, and their growing trust in our abilities gives me great confidence for Iomart's prospects in the years ahead."
By late morning, Iomart's share price was down by nearly 19% at 184.50p.