Scottish employers 'looking to take on more staff'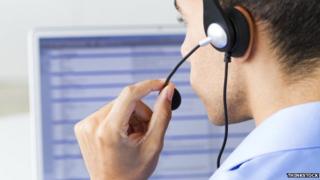 Scottish employers are looking to take on more staff early next year despite a dip in confidence levels, according to a survey.
Recruitment firm Manpower said there was particular demand for customer service workers in Glasgow and financial service staff in Edinburgh.
It found a busy jobs market in and around Aberdeen.
There was also a rise in demand for production and manufacturing staff in central Scotland.
However, the Manpower Employment Outlook Survey suggested that confidence levels dipped slightly following the outcome of the independence referendum.
Employment outlook
Manpower UK operations manager Amanda White said: "Scottish employers are entering the new year with plans to take on staff, although at a slightly slower rate than we saw in the second half of 2014.
"Last quarter, we saw companies display some hesitance about hiring ahead of the referendum.
"Even though the outcome has been decided, we have seen little pick-up in the outlook, although hiring intentions remain in positive territory.
"Interestingly, we have recently seen a trend for more permanent positions, with some employers even converting existing temporary roles to permanent ones, suggesting that companies are thinking in longer terms now post-referendum stability has been established."
She added: "Many of the permanent positions are concentrated in call centre and customer service roles, where companies are keen to hang on to good sales people and employees with the right skills."