Parties 'express interest' in wave power firm Pelamis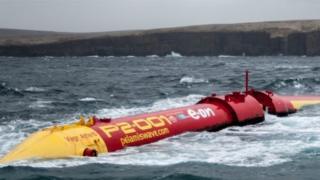 Several parties have expressed an interest in collapsed wave power firm Pelamis, according to administrators.
The firm went into administration last month after failing to secure enough funding to develop its technology.
Administrators at KPMG said they had been encouraged by the amount of initial interest shown in the Edinburgh-based firm.
They have set a deadline of Tuesday morning for parties to table offers for the business and its assets.
KPMG also said it could "take some time" after that to select a preferred bidder.
Pelamis Wave Power employs more than 50 staff in the design, manufacture and operation of wave energy converters which it has been testing at the European Marine Energy Centre (EMEC) in Orkney.
Joint administrator Blair Nimmo said: "We have been encouraged by the level of initial interest in Pelamis and we believe there is the will and desire to see the continuation of the groundbreaking advances the business has made towards renewable energy production."