New Scottish financial health service launches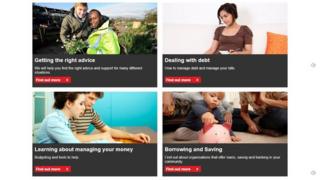 A one-stop website for money advice services has been launched by the Scottish government.
The new Financial Health Service portal provides links to organisations offering information and advice on debt, managing money, housing, homelessness and ethical lending.
It also helps users find local credit unions and approved money advisers.
The move comes after MSPs passed the Bankruptcy and Debt Advice (Scotland) Bill earlier this year.
Compulsory financial education for those in need is at the centre of the legislation, which comes into force in April 2015.
'Burden of debt'
Launching the new financial health service, Business Minister Fergus Ewing said: "It is important that we take action to help those people in Scotland who are struggling under the burden of debt.
"We have developed Scotland's Financial Health Service because we must ensure that people who need to access debt and budgeting advice do so easily with credible sources."
Mr Ewing said more than 14,300 people joined credit unions in Scotland after campaigns to help people struggling with debt were run in the six months to March this year.
He added: "People across Scotland can join credit unions - all sorts of people from all walks of life use credit unions to save and borrow responsibly - and the most successful attract a diverse membership."
In March, Mr Ewing said the new bankruptcy laws passed by Holyrood would help prevent future insolvencies. But Scottish Labour warned they would "hold Scots in bankruptcy".