Edinburgh Woollen Mill announces plans for 100 new stores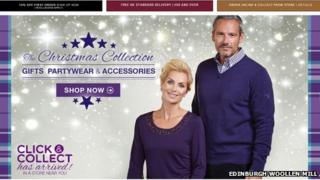 Edinburgh Woollen Mill Group (EWM) has announced plans to open 100 new stores over the next two years after posting record profits.
EWM said it would set up 76 new stores in the UK and overseas over the coming year, creating more than 1,000 jobs.
The Langholm-based group already has more than 10,000 staff in the UK and Republic of Ireland.
The company owns fashion retailers Peacocks and Jane Norman, as well as homewares business Ponden Mill.
The new stores will continue an expansion drive which saw EWM open a total of 34 new outlets last year, creating more than 500 new jobs.
The store announcement came as the company posted record profits for the last financial year.
It said pre-tax profits rose by 26% to £71.3m.
'Relentless focus'
Combined sales fell by nearly £15m to £551.9m, although EWM said underlying sales were positive when taking into account permanent and temporary store closures and a 53-week trading year in 2013.
EWM also reported that its e-commerce sales were accelerating thanks to the introduction of click and collect services.
The company attributed its strong trading performance to control of input prices and a "relentless focus on product quality, value for money and customer experience".
Steve Simpson, group commercial director, said: "We are particularly encouraged by the sales and profit performance of the Edinburgh Woollen Mill business, which has grown consistently to become a category leader in the over-40s customer segment.
"Leveraging its strength into a broader demographic, both at home and overseas, in store as well as online, is a key focus of the group in 2015 and beyond."