Synthetic bone graft firm Sirakoss backed by investors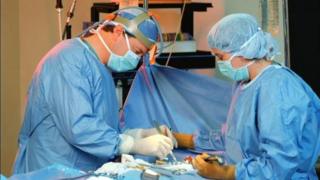 Synthetic bone graft technology firm Sirakoss has secured more than £3m in funding from a syndicate of investors.
The medical device company, which is based in Edinburgh and Aberdeen, said the money would enable it to complete development of its products.
It will also be used to push forward the firms' expansion plans in Europe and the USA.
The syndicate of investors backing the firm is led by specialist life science venture capital group Epidarex Capital.
Other syndicate members include the Scottish Investment Bank - the investment arm of Scottish Enterprise - and the London-based Worshipful Company of Armourers and Brasiers.
Sirakoss was spun out from the University of Aberdeen in 2011.
Synthetic bone grafts are used in trauma, spinal and dental surgery to fuse bones together to correct congenital or degenerative conditions.
They can also be used in cases of a traumatic injury where the bone fails to heal.
Sirakoss chief executive Brian Butchart said: "We are delighted to have closed this investment with Epidarex Capital as this validates the company's belief in its outstanding and highly differentiated synthetic bone graft technology and the clearly defined commercial opportunity that this represents within a $2.5bn global market.
"This investment will enable Sirakoss to complete product development and to implement its regulatory strategy for both the European and US markets".