Aberdeen Asset Management reports rise in profits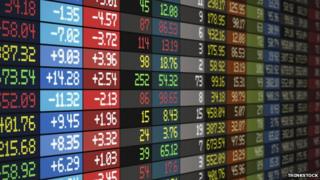 Fund manager Aberdeen Asset Management has posted a rise in underlying pre-tax profits, despite losing business in Asian and emerging markets.
It said full-year profits increased by 2% to £490.3m, while net revenue was 4% up at more than £1.1bn.
Assets under management rose 62% to £324bn, helped by the acquisition of Scottish Widows Investment Partnership (SWIP) from Lloyds Banking Group.
However, net outflows amounted to £20bn over the year to the end of September.
Chief executive Martin Gilbert said: "We have delivered a robust performance this year in a more challenging environment, underpinned by our long-term track record and also our transformational acquisition of SWIP, which has diversified the group.
"The first half of the year was particularly demanding, as investor sentiment turned sharply against emerging market economies.
"Recently, however, we have seen those concerns abate and outflows from our Asian and emerging market funds have moderated."
'Volatile markets'
He added: "The integration of SWIP is proceeding on schedule and is already beginning to deliver cost synergies ahead of expectations.
"The acquisition has also made us a more balanced and diverse business and more easily able to ride out the ebb and flow of investor sentiment in particular asset classes and geographies.
"Markets are likely to remain volatile given the uncertain economic and interest rate environment but our new financial year has started well with our broadened product range attracting interest from a range of clients.
"We will continue to apply our philosophy of long-term fundamental investing to meet the objectives of our clients."
The firm said it would pay a final dividend of 11.25p per share, bringing its total dividend to 18p.
Aberdeen's share price was up by nearly 1.8% in early trading.