Glasgow hotel revenues lifted by Commonwealth Games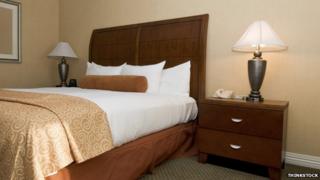 Glasgow hotels saw revenues soar as a result of the Commonwealth Games, according to a survey.
Average rooms yield in the city climbed by 21.3% in August to £64.31.
Business advisers BDO also said hotels in Edinburgh benefited from the city's festival season, with revenues rising 4.9% to £116.39 per room.
This was only 37p less than London recorded in August, and was by far the highest figure of anywhere outside London.
Inverness and Aberdeen hoteliers also experienced an increase in revenue, to £69.32 and £68.85 respectively.
Year-on-year occupancy fell in Scotland to 88.4% during August, but the figure was higher than regional UK, England and Wales.
'Exceptional summer'
Alastair Rae, from BDO, said: "The hotel sector in Scotland continued to have an exceptional summer with revenue growing to £82.95, which is almost £30 higher than the UK average for August.
"Although occupancy fell across Scotland this is to be expected when pricing is robust.
"Scottish occupancy was higher than anywhere else in the UK and Edinburgh, Glasgow and Inverness all had occupancy rates in the 90% range which, by any standards, is very high and demonstrates that the pricing policy was well judged.
"Clearly this has been a very good year for the hospitality sector and the summer is the time when the industry needs to make good returns to ensure it is viable for the rest of the year."