Edinburgh-based Apex to open first Glasgow hotel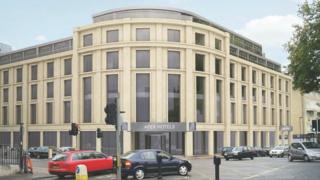 Edinburgh-based hotel chain Apex has announced that it will open its first hotel in the west of Scotland next year, as part of expansion plans.
The group said it had agreed to buy an existing hotel in Glasgow, which will be closed in January for refurbishment.
The hotel, which has not been named yet for legal reasons, will reopen next summer.
The announcement came as Apex reported increased revenues and profits for the year to the end of April.
Turnover for the group grew by 11% to £56m, while profit before exceptional items was £9.6m - an increase of 37% on the previous year.
Apex currently operates eight 4-star hotels - four in Edinburgh, one in Dundee and three in London.
The company said its London operations benefited from an upturn in market conditions following the 2012 Olympic Games and experienced strong growth in occupancy and room rates.
It added that solid results from its Scottish hotels reflected increased corporate and leisure demand.
Expansion plans include adding a further 30 rooms at its Apex City of London Hotel. It has similar plans next year for Apex Temple Court Hotel, also in London.
Apex is also considering expanding its recently-acquired Custom House and Harbour Chambers in Dundee, which is located next to the Apex City Quay Hotel & Spa.