Dairy firm Graham's reports sharp rise in sales and profits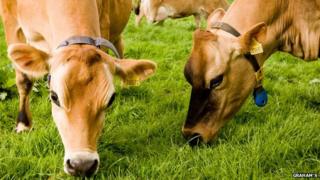 Fast-growing dairy firm Graham's has reported a sharp rise in sales and profits.
The company, which works with more than 90 farmers across Scotland and employs 500 staff, said sales rose by 25% to £85m in the year to the end of March.
Pre-tax profits also climbed from £1m to more than £1.3m.
Graham's, which is based in Bridge of Allan near Stirling, said nearly half of Scottish households were now buying its products.
They include milk, butter, cream, cheese and ice cream.
Robert Graham, managing director of Graham's The Family Dairy, said: "We are now the most significant Scottish-owned dairy business and it's our hard work ethic and personal accountability for everything we do and everyone we work with which is part of our success story.
"I feel a personal responsibility for the people working in the business, for the farmers supplying our business and for the customers buying Graham's.
"We know where our products come from and so do our customers. It is clear from our sales that they enjoy buying quality, Scottish produce from a family-run business with a strong heritage."
Graham's was founded at Airthrey Kerse Farm in Bridge of Allan 75 years ago.
Last month, the company announced it had signed a deal to supply branded milk and butter products to all Scotmid stores across Scotland.
In May, Graham's announced plans to expand after securing £20m in funding support from Royal Bank of Scotland.
The company said it would use the cash to develop new products and invest in its brand.