Housebuilder Stewart Milne in skilled trades call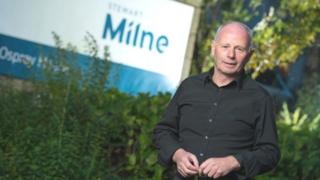 Leading housebuilder Stewart Milne has launched a campaign to "encourage respect for the trades" in a bid to attract more people to the industry.
The move from the chairman of Aberdeenshire-based Stewart Milne Group comes as the UK construction sector faces a nationwide skills shortage.
Mr Milne said he was concerned at the shortage of qualified tradespeople.
He argued that it was constraining a predicted upturn in housebuilding and construction.
The Construction Industry Training Board (CITB) has estimated that 182,000 qualified tradespeople are required in the next five years to meet demand across the industry.
Stewart Milne Group has already created 160 new jobs this year and is seeking to recruit a further 250 people by next summer.
The majority of these positions are for skilled tradespeople such as electricians, joiners and bricklayers.
'Negative perception'
Mr Milne, who began his career as an electrician, said: "There is still a negative perception of tradespeople in this country.
"It used to be that if you were not capable of, or interested in going on to, further education you took up a trade almost as an after-thought.
"But tradespeople are highly skilled and should be highly valued.
"Our own tradespeople and our extensive network of subcontractors will have a critical role to play as our group prepares to significantly increase housing developments and meet growing demand from the homes and construction sectors for our timber systems solutions."
Mr Milne said he believed more should be done to attract people into a trade and that it should be seen as a means of progression and not simply a one-dimensional career path.
"I served my time as an electrician and I know what a trade can lead to," said Mr Milne. "Many of our qualified tradespeople have gone on to become contracts or site managers, for example."