'Whisky' salmon feed firm Horizon Proteins wins funding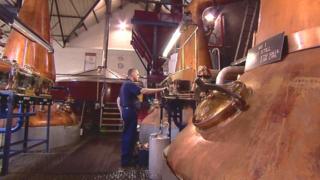 A spin-out firm which has developed a way of using whisky residue for salmon feed has been awarded up to £575,000 from Scottish Enterprise.
Horizon Proteins' method involves recovering protein from pot ale - liquid residue left over from the whisky-making process.
The firm hopes it will replace traditional proteins used in salmon feed, such as soya bean meal.
It aims to achieve a £5m turnover within five years.
Horizon Proteins is a spin-out from Heriot-Watt University.
One of its founders, Nik Willoughby, said: "Barley proteins are particularly well-suited for Atlantic salmon but growing barley purely to feed salmon would be very expensive and fish cannot digest the whole grain.
"Malted barley is used to produce malt whisky and our process allows us to utilise the leftover protein."
'Attractive option'
He added: "Our goal is to replace traditional proteins used in salmon feeding such as fish meal and soya bean meal with locally-sourced, readily-available, sustainable protein which we believe will also be competitively priced and altogether a very attractive option for Scottish salmon farmers."
Eleanor Mitchell, director of commercialisation at Scottish Enterprise, said: "We are very excited to be supporting a project with the potential to not only create high value jobs in Scotland but to also provide such significant value-add to the iconic Scottish food and drink industries, salmon and whisky "
Earlier this year, a spin-out from Napier University in Edinburgh said it had developed a process to make biofuel from Scotch whisky's leftovers.
Celtic Renewables' process involves mixing spent barley kernels, known as draff, and pot ale and feeding it to clostridium bacteria.
The company said it creates a fuel which can go straight into a petrol tank without having to modify a car.