Eurofighter radar deal secures 500 jobs in Edinburgh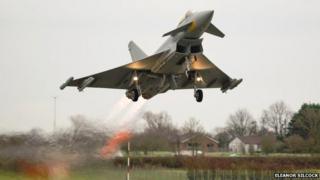 About 500 jobs have been secured at a defence firm in Edinburgh, with the signing of a contract to upgrade the Eurofighter Typhoon aircraft.
Selex ES, which is based in the capital, will help develop the latest type of radar system for the fighter.
The total value of the deal is 1bn euros.
The four nation-backed Eurofighter Typhoon is produced by BAE Systems, France-based Airbus and Selex owner Finmeccanica of Italy.
BAE Systems said its share of the deal to develop the Captor E-Scan radar for the jet fighter was worth £365m.
The Eurofighter consortium described the Captor E-Scan as the world's most advanced Active Electronically Scanned Array Radar System (AESA).
Eurofighter chief executive Alberto Gutierrez said the latest deal was "a pivotal moment" in the life of the Eurofighter programme.
He said: "It enhances a weapons system that offers a mix of capabilities that is simply unmatched anywhere in the world. It's something that Europe should be immensely proud of."
BAE Systems managing director of combat air, Martin Taylor, said in a statement: "This is a major step forward in the development of Typhoon.
"From the outset, the aircraft was built with capability enhancement in mind and this step is proof that we are developing Typhoon to keep it relevant for today and for the future."
Britain, Germany, Italy and Spain had already funded the initial development of the advanced radar, before agreeing a new contract to fit the technology to the jets.
Since delivery of the first Eurofighter Typhoon to the Royal Air Force at the end of 2003, a total of 418 aircraft have been delivered to six nations - Germany, the United Kingdom, Italy, Spain, Austria and Saudi Arabia.