How Scottish business sees the wood for the trees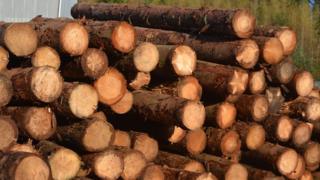 BBC Radio Scotland's Business Scotland programme has been talking all things wood with companies involved in sawmills, forestry management and harvesting, but also to those who make things which showcase the beauty of wood.
It has more than 5,000 uses including paper, pencils, construction materials and clothing so it is little wonder that Scotland's forest and timber industries are big business.
"Most people who plant trees unfortunately don't live long enough to harvest them," says George McRobbie, managing director of forest management and harvesting company, UPM Tilhill.
"Most people who are planting trees are planting them in their middle age."
Yet despite that, he says, it remains an attractive investment for those who are looking for a concrete asset.
Forestry and timber may be a long-term investment but most forests will have a variety of ages of trees within them, while there is also a market in selling growing plantations.
UPM Tilhill does everything from planting trees, looking after them as they grow, protecting them from disease and wildlife and making sure they grow into healthy trees, generally for a timber crop.
Despite being a relatively small sector compared to other countries, Mr McRobbie says forestry is doing well at the moment and that has been the case through the recession.
He argues that is largely because there is a relatively big market for timber products and we only grow a relatively small percentage of the timber we use ourselves. We are, for instance, only 37% self-sufficient in sawn wood.
But there are also challenges ahead. Timber production is likely to keep rising over the next 20 years or so on the back of planting which was done by previous generations but there are warnings that it could then start to drop off.
George McRobbie says there needs to be some long term thinking.
He says: "It takes 40 years or so to grow a crop of trees to maturity and therefore we do have a challenge in that we're not planting enough trees at the moment for that future timescale".
Growing the trees, of course, is only part of the forestry and timber equation. The logs themselves have to be processed and then made into different products.
At the BSW timber group site near Dalbeattie, in Dumfries and Galloway, computer technology helps run the sawmill line. It is the nerve centre of the whole operation. The trees are mainly Sitka spruce and larch.
Fork lift trucks move logs around the site, while others are stacked up waiting to be processed.
"It's a far cry from the old fashioned sawmill when everything was run by eye," says Hamish MacLeod, BSW director of public affairs.
The logs are processed through the line to produce sawn timber and that is then further processed into a range of products for use in construction, pallets, fencing and landscaping, as well as chips and bark.
Everything that comes in is used while a small amount of what is left is burnt on site to generate heat for the drying kilns. This is one of seven sawmills the company has in the UK and one in Latvia.
"The forests of today are very different from the forests that were created in the 1960s," explains Mr MacLeod.
"They're much more diverse, a much wider range of species not so densely planted and they're actually much more attractive in terms of multi-purpose, for recreation, for wildlife and for biodiversity, so it's a win, win situation for all concerned.
"Then on top of that you've got the huge benefit of carbon sequestration, they take carbon dioxide out of the atmosphere and store it forever."
He says the wider sector has built itself up over the years in what is a "tremendous achievement" but he also has concerns about the future supply of raw material - trees.
"It's a great story, we just want to be able to secure that for the future."
The public agency Forestry Commission Scotland agrees that "sustainability of supply is a really important issue."
It says a lot of work has been done with the industry to produce some definitive data on what is in forests - both public and private - at the moment, and what is likely to be there in the future.
"Clearly restocking your forest is an essential thing to do," says Cameron Maxwell of FCS.
"And then you come into woodland creation and what we're looking to do in woodland creation is to make sure we have more planting of productive species going forward and that'll start to really help us from the 2050s, 2060s onwards."
He sees wood's low carbon credentials as key, particularly in construction.
But as well as being useful, of course, wood can be very beautiful too.
"We use the natural elements and characteristics and colourings of the timbers to inform our designs," says Paul Hodgkiss of Paul Hodgkiss Designs.
"The design tends to continue flowing after the drawings are done because as we machine the timbers we realise that a certain shape or a certain knot or a certain hole in the timber is going to take us off in a different direction or give us another opportunity that we must explore."
He has been in business since 1986 designing and making furniture, interiors and other wooden products. He has now moved into retail too and sees that as an important part of keeping the business sustainable.
This year his work has been showcased worldwide as his company designed and made 1514 elm quaichs which were given to each athlete who won a Commonwealth Games medal. They also made the medal trays and podiums.
The company's involvement in the Commonwealth Games has been "a major boost in a couple of ways," says Mr Hodgkiss.
As well as raising their profile, he says they learned a lot about the benefits of economy of scale.
Mr Hodgkiss says: "We set up a manufacturing procedure which was so enjoyable because as we got going we could take analysis, we could tweak it, we could make it better and we could learn an awful lot."
At the moment the workshop is busy with a job refurbishing a hotel - sawing, cutting, finishing. One of the machines in operation was built pre-1937 for making coffins, but has now been given a new purpose.
"I think that recession has taught us all about the value of money again," says Mr Hodgkiss.
"So no longer will people be spending money on a temporary solution anymore. What they're doing is that they're taking their money and they're spending more of it on less but that single item is going to last a lot longer.
"It's there for as long as they want to use it and it won't wear out. The only way they're going to get rid of it is by setting it on fire," he adds with a laugh.
You can hear more about the business of wood in Business Scotland, just after the news at 6am on Saturday and again, just after the 10am news on Sunday.