Scotland's unemployment total falls by 10,000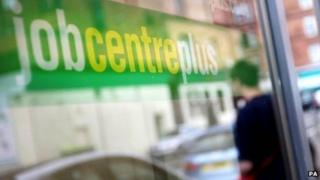 Scotland's jobless total fell by 10,000 over the summer to stand at 164,000, according to official figures.
The Scottish unemployment rate is now 5.9%, which is just below the UK figure of 6%.
UK unemployment fell by 115,000 between July and September to just under two million.
Office for National Statistics data also showed that employment in Scotland increased by 22,000 over the three months to September.
The number of people in work in Scotland now stands at 2,605,000.
Scotland's employment rate is 73.8%, slightly higher than the UK rate of 73%.
The number of those claiming Job Seeker's Allowance (JSA) fell by 1,200 between September and October to stand at 89,900. The figure is 28,800 lower than a year ago.
'Outperforming UK'
The Scottish government said the figures showed that Scotland was outperforming the UK on employment, unemployment and inactivity rates.
First Minister Alex Salmond said: "The figures show that despite the global recession, the Scottish economy continues to strengthen with overall employment now 43,000 higher than the three-month period April-June 2007, with female employment 66,000 higher over the same period.
"With discussion on further powers for the Scottish Parliament now taking place it is essential that we have the full tools we need to support employment opportunities for everyone in Scotland."
The UK government's Scottish Secretary Alistair Carmichael said: "The government's economic long-term plan is working and that means more opportunities across the country.
"People voted to stay part of a UK providing more jobs security and that is exactly what it is delivering for Scotland."
The Scottish Chambers of Commerce welcomed the figures.
Chief executive Liz Cameron said: "The welcome continuation of the trend of falling unemployment in Scotland reflects the optimism that businesses are experiencing and the positive recruitment plans that businesses have across a number of sectors.
"The private sector is continuing to create new jobs, strengthening and rebalancing our economy for the better.
"However, as employment continues to grow, so too does the problem of skills shortages and hard to fill vacancies.
"Governments north and south of the border need to tackle this with co-ordinated strategies aimed at ensuring that our domestic talent is better equipped with the skills that our businesses need and also that Scottish businesses are better able to recruit suitably skilled staff from beyond our shores."