Break-ins 'could delay' Ayrshire sake brewery plans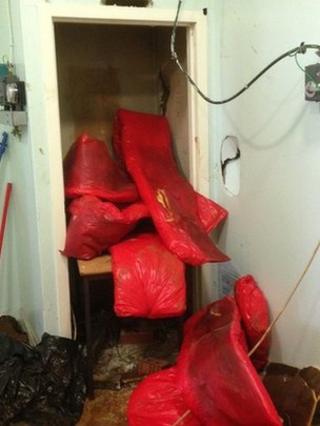 Plans to create a sake brewery in North Ayrshire have been set back by a series of break-ins at the site, according to its owners.
Arran Brewery said thieves had stolen copper boilers and lead from the roof of the planned development in Dreghorn.
It estimated losses at more than £60,000 after three break-ins in as many weeks.
Arran said further thefts and acts of vandalism could delay jobs planned for the new facility.
The site is a former primary school which the company only recently bought from the local council.
Arran has now fitted four extra security cameras in a bid to tackle to problem.
Arran managing director Gerald Michaluk said: "We have employed our first three staff but the break-ins continue and currently thieves are trying to steal kitchen equipment.
"This is all causing unbudgeted-for work and if it continues will cause us delays in creating more than 30 jobs planned for the new facility.
"This is something we are not used to.
"You can leave your back door open on Arran with no fear of being robbed, everyone knows everyone and looks out for each other.
"The boilers they stole are large and someone must have seen something, further they must have sold them somewhere."
Mr Michaluk urged anyone with information about the incidents to contact police.
Arran plans to create a bottling hall and a research and development centre at the new brewery.
It will also feature a visitor centre which aims to attract about 30,000 visitors a year to the area.