'Major' coal find under Firth of Forth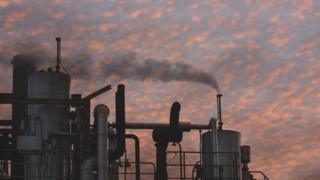 An energy firm has announced plans to extract gas from under the waters of the Firth of Forth following a major coal find.
Cluff Natural Resources said a report by independent assessors estimated there were up to 335 million tonnes of coal under the seabed.
It now plans to build the UK's first deep offshore underground coal gasification (UGC) plant.
Cluff said the find was enough to power millions of homes.
But environmental group WWF Scotland said the move was "irresponsible" and should be "a complete non-starter".
Cluff said its assessment had identified two coal seams at its Kincardine UGC licence which had 43 million tonnes of "stranded" coal of sufficient quality for a UGC plant.
The licence covers an area of 37.6 sq km of tidal estuary waters.
Combustible gases
Cluff said it now planned to seek planning permission to build a gasification plant, possibly at an existing industrial complex such as Longannet or Grangemouth.
The process of gasification involves drilling horizontally into a seam and then injecting air and oxygen to produce syngas - a mixture of combustible gases which include hydrogen, carbon monoxide, methane and carbon dioxide.
Cluff chairman and chief executive Algy Cluff said: "The development of UCG at the Kincardine Licence Area would result in the creation of new jobs, help protect existing industry as well as create significant supply chain benefits.
"The emerging UCG industry has a significant role to play in unlocking the UK's most abundant indigenous energy resource which, with the imminent closure of the last deep coal mines, is now otherwise effectively beyond reach."
He added: "We believe that UCG will help provide a cleaner energy, diversity of supply and energy security for the UK, and we look forward to updating the market on our developments at our Kincardine Licence area with respect to this."
'Worst case'
WWF Scotland director Lang Banks said: "We need to see Scotland and the rest of the UK move toward an electricity system that is largely free of polluting fossil fuels.
"Plans to 'burn' coal under the Firth of Forth will not deliver that aim and should therefore be a complete non-starter.
"In a worst case scenario, proposals such as this one could even extend our use of fossil fuels, locking us into a high carbon world.
"Just over a week ago, scientists from the United Nations issued their latest predictions of the growing threat from global climate change and the need to be rapidly phasing out our use of fossil fuels.
"Since the developers themselves have admitted that carbon dioxide will be emitted by their plans, from a climate change perspective, this scheme is nothing short of irresponsible."