Scottish services sector 'leads business activity growth'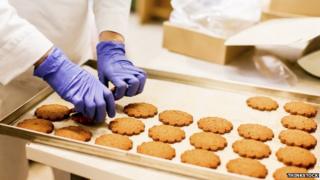 A strong performance by the services sector helped to boost Scottish economic activity at the start of the final quarter, according to a survey of purchasing managers.
The latest Bank of Scotland PMI suggested growth was fuelled by an upturn in the amount of new business.
October also marked a return to growth - albeit marginal - in factory output.
However, the pace of job creation continued to ease, with firms generally able to keep on top of workloads.
New work
The survey indicated October's expansion in business activity was broad-based, with the fastest rates of growth recorded in business services and travel, tourism and leisure.
The rate of expansion in new work was at a three-month high, bolstered by strong inflows of new work at services firms.
Goods production north of the border returned to growth in October after contracting slightly at the end of the third quarter.
However, new orders in the manufacturing sector continued to fall, which was attributed in part to increasing weakness in export sales.
Output prices rose only fractionally on average at the start of the final quarter, with the rate of inflation slower than in September.
'Welcome increase'
The survey suggested that factors weighing on inflationary forces included pricing competition and attempts to boost demand amid relatively weak cost pressures.
Bank of Scotland chief economist Donald MacRae said: "Both services and manufacturing sectors recorded growth with a welcome increase in the level of new business, particularly in financial services.
"But, the level of new export orders at manufacturers fell for the fourth month in succession, illustrating the effect of the slowdown in the eurozone.
"The Scottish economic recovery continues but at a reduced rate compared to the first half of the year."