New oil and gas licences awarded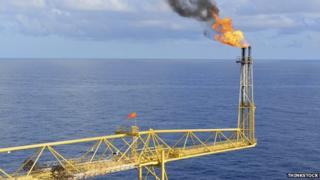 The UK government has awarded 134 licences to drill for oil and gas in UK waters, covering 252 blocks of seabed.
This is the 28th round of licensing in British waters, with a round taking place usually every two years since 1964. This is thought to be one of the largest.
It includes extensive licensing around mature fields in the central North Sea.
French company Total has won the right to prospect in new blocks west of Shetland.
Licences have been awarded north-west of the Isle of Lewis, as well as some to the west of the Isle of Wight and off the Cumbrian coast.
Prominent among the companies to have won licences from the Department for Energy and Climate Change are Statoil, owned by the Norwegian government, Taqa, controlled from Abu Dhabi, and Enquest, an exploration specialist based in Aberdeen.
Another Aberdeen-based firm, Faroe Petroleum, was awarded two licences which will extend its acreage around the Perth/Dolphin/Lowlander field development.
'More jobs'
Although there is significant interest in winning licences, many of them are subject to environmental assessments before drilling can take place.
More significant for the industry at present is the lack of drilling, following poor recent results, high drilling and operating costs, and the falling price of oil.
Last year, only 15 exploratory wells were sunk.
The industry is pressing the UK Treasury for a more attractive tax regime in order to extract the maximum amount of oil and gas from under UK waters, at a time when fields are maturing and equipment is ageing.
Matthew Hancock, business and energy minister, said: "The North Sea provides a safe, secure, home-grown energy supply for the UK. We are determined to make the most out of it.
"This successful licensing round, which is on track to be one of biggest rounds ever in five decades, is a boost for the UK economy and shows that our long-term economic plan is working.
"We are creating more jobs by backing business with better infrastructure investment. Industry are scrambling over themselves invest in the UK and explore for energy".