Scottish retail sales dip in third quarter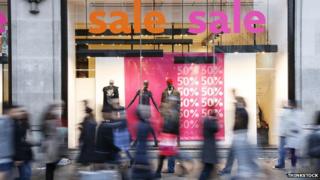 Shop sales in Scotland dipped in the third quarter of this year after two consecutive quarters of growth, according to new figures.
Scottish government statisticians estimated that the value of sales decreased by 0.6%, while volumes slipped by 0.3%.
Sales volumes showed zero growth on a year ago, while value was 0.8% down on the third quarter of 2013.
Great Britain as a whole saw slight increases in both value and volume.
Despite the overall dip, retail sales for small and medium-sized businesses have grown over the past year.
According to the Retail Sales Index for Scotland, sales volumes for smaller stores increased by 1.7%.
'Disappointing'
Scottish Retail Consortium director David Lonsdale said: "The dip in retail sales in the third quarter - after two consecutive quarters of growth this year - and flat performance over the year as a whole is disappointing, and mirrors the findings of our own Scottish monitor.
"Going forward, retailers will be buoyed by the build-up to Christmas and the more positive outlook for jobs and the economy.
"We need to see firmer action from government at all levels to assist the industry, with a tighter grip on costs under their control such as taxes, charges and regulation, and more money put into people's pockets."
Responding to the figures, Finance Secretary John Swinney said: "While these figures show a small dip in retail sales in quarter three, the growth in sales for small and medium-sized retailers is welcome.
"This follows a recent Scottish Chambers of Commerce survey which highlighted that Scottish retailers are increasing hiring and are expecting profitability to be strong over the next year."