Michelle Mone announces Ultimo stake sale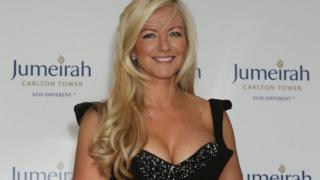 Scottish bra tycoon Michelle Mone has announced that she has sold most of her stake in lingerie firm Ultimo and bought a fake tan and beauty business.
In a series of tweets at the weekend, Ms Mone said she had "hung up my bra" and "sold 80% of Ultimo".
She then confirmed she had bought 100% of self-tan business UTan.
Ms Mone also described her 17 years of building up the Ultimo brand as a "roller coaster ride", and hinted at a new TV role.
Ms Mone co-founded the original Ultimo parent company MJM International with her ex-husband Michael in 1996, and created brands including Ultimo Miracle Shapewear and Miss Ultimo.
Last year, she announced he had left the company following a breakdown in their marriage.
MJM ceased trading at the end of last year after registering major liabilities.
Its assets were then moved into Ultimo Brands International after Ms Mone forged a business partnership with Sri Lanka-based lingerie group MAS Holdings. It took a majority stake in Ultimo.
'New chapter'
Tweeting on Saturday, Ms Mone said: "Yes I can confirm that I've sold 80% of Ultimo & bought 100% of UTan & Beauty. I'm the happiest I've ever been & Ultimo will soon be Global success.
"My new chapter will be: new Ultimo stores, growing UTan & beauty, new investments, new Biz, TV, speaking round the world, my book & helping others."
Asked in one tweet if she would still be the boss of Ultimo, she said: "No I've hung up my Bra & 63,000 people will take forward."
She later tweeted: "Have a great Sat guys! I'm off to celebrate 17 years of building Ultimo into a huge brand & my new chapter."
Ms Mone also said she was looking for a home in Los Angeles but would keep her home "in Scotland & London".
'Creative force'
A spokesman for Ultimo Brands International said: "We can confirm that MAS Holdings has recently increased its stake in Ultimo.
"Michelle remains a significant shareholder and director of the business, and will continue to be the creative force behind Ultimo lingerie.
"This is a very exciting time for Ultimo as we look to open stores around the UK and launch the next phase of the brand's growth in the UK and beyond."