Business groups attack Scottish planning applications fee rise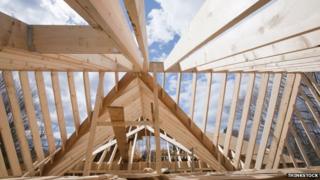 Four leading Scottish business groups have spoken out against an increase in fees for planning applications.
The 5% rise is due to come into effect on 1 November and follows a 20% increase last year.
The changes came after concerns were raised about the gap between fees and the cost of processing applications.
Groups representing Scotland's tourism, retail, house-building and quarrying industries said the extra cash must be used to improve the system.
The Scottish government, which is responsible for introducing the fees, said the increase was designed to provide local council planning departments with additional resources, leading to better performance.
'Drag on development'
In a joint statement, four trade associations - the British Aggregates Association, Homes for Scotland, Scottish Retail Consortium, and Scottish Tourism Alliance - attacked the increase as "more than twice the rate of inflation".
David Lonsdale of the Scottish Retail Consortium, said: "It is far from clear that this further above-inflation rise in fees, coming on top of last year's hefty 20% increase, has been accompanied by a commensurate and demonstrable improvement in service to retail applicants."
Blair Melville from Homes for Scotland said its members would be happy to pay higher fees in return for a quality service.
"However, the Scottish government's own planning performance framework monitoring shows a system which falls far short of the standards of customer service, speed and efficiency that the country needs if new development is to stimulate economic growth," he said.
"There are some bright spots and good authorities, but too many are still offering inadequate service, and the worst-performing councils are undoubtedly acting as a drag on development."
Marc Crothall, chief executive of the Scottish Tourism Alliance, said the industry was "yet to be convinced" of the need for the rise.
He added: "Managing costs remains a challenge and commitments to tourism investment need surety that the upfront costs are justified.
"Tourism firms will expect to see improvement in the service provided and especially in the pace of processing applications."
Funding gap
Richard Bird, secretary of the Scotland-based British Aggregates Association, said the "further bumper leap in fees" would "exacerbate" the lack of experienced planners dealing with mineral planning applications.
A Scottish government spokeswoman said: "The fee income councils receive does not cover the cost of processing planning applications and this funding gap must be addressed to deliver investment in planning.
"The 5% increase in fees is intended to provide planning authorities with additional resources and sustain performance improvements.
"The Scottish government continues to work closely with authorities, Cosla and others on planning performance. By doing so we can provide developers and businesses with greater certainty to help deliver sustainable economic growth."