SSE urges move to 'national pricing' on supplier costs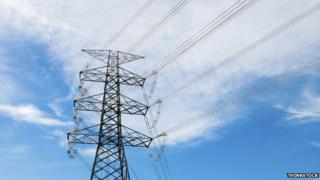 The boss of power firm SSE has urged the UK energy secretary to consider adopting "national pricing" on supplier costs in order to end regional price differences for electricity.
North of Scotland residents currently pay a surcharge because of the higher cost of delivering power there.
But in a letter to Ed Davey, SSE chief Alistair Phillips-Davies said transport costs should be "flattened out".
He argued there should be one standard charge throughout Great Britain.
Writing in Friday's Press and Journal, Mr Davey said keeping energy bills affordable was a priority for the UK government, and it was "working particularly hard" to help remote, rural communities.
He also argued that a number of schemes were in place to help reduce bills for consumers, including those living in remote areas.
Surcharge 'disgrace'
The SSE letter follows criticism that people living in the Highlands and Islands pay a 2p surcharge per unit to meet higher delivery costs.
The Western Isles Council recently branded the surcharge "a disgrace" and called for talks with suppliers and regulators over the high cost of electricity in the north of Scotland.
All electricity suppliers currently face different costs for transporting electricity in different parts of Great Britain.
According to SSE, changing the current pricing system would require legislative or regulatory action.
In his letter to Mr Davey, Mr Phillips-Davies said: "I am aware that the reason for regional differences in retail electricity prices is due to different costs for transporting electricity in different parts of Great Britain.
"The companies operating networks in areas such as Northern Scotland and North Wales are always going to face larger costs per customer because these are large land masses with diverse terrain and remote housing.
"Indeed our own networks businesses experience this. The energy suppliers receive the charge from the network companies and pass it on to customers, which leads to overall regional price differences across all suppliers.
"Whilst some government interventions narrow the scale of the differentials, as you know they do remain."
'Public concern'
He added: "Consistently two-thirds of people support an end to regional price differentials and we have recently seen in the north of Scotland and the islands that this is an issue of public concern.
"SSE has been making the case for these transportation costs to be 'flattened out' to one standard charge for every customer across Great Britain.
"The network companies would receive the same income for their necessary maintenance and investment work, but the costs would be spread across all regions, resulting in an end to this issue.
"This would make things far simpler for customers by reducing tariff complexity, as well as addressing these public concerns.
The letter from SSE has also been sent to regulator Ofgem, the Competition and Markets Authority (CMA) and Labour's shadow energy secretary Caroline Flint.
Writing in the Press and Journal, Mr Davey said: "The fact is network costs to remote areas are higher not just in Scotland but across the UK.
"The simple reason is that physically getting the power over glen or fen costs more than if you're next to a power station in Glasgow or London.
"I'm adamant that doesn't mean that Scottish rural consumers should lose out.
"In particular, the costs are currently shared across the whole of the GB consumer base, so it adds only a relatively small extra cost to energy bills overall, but makes a huge difference to the Scottish consumers receiving the benefit."
Mr Davey added that a number of schemes were in place to help reduce bills, including the Hydro Benefit Replacement Scheme which provided about £54m to support 690,000 domestic electricity users in the north of Scotland.