Construction workloads at seven-year high, Rics survey suggests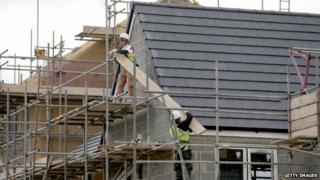 Unprecedented housing demand has helped to create the highest workload for Scottish surveyors for seven years, according to a new report.
The Royal Institution of Chartered Surveyors (Rics) found commercial workloads continued to make a strong recovery in the last quarter.
Its latest construction market survey also saw "positive signs" in the public housing sector.
A net balance of 22% of surveyors reported construction activity growth.
Workloads in the private housing sector also grew robustly across the UK.
The rise in commercial activity in the last quarter came despite growing concerns by quantity surveyors over skills shortages.
Meanwhile, workloads in infrastructure saw much more balanced growth, with 27% more surveyors seeing activity levels rise across Scotland.
Across the whole of the UK, the main factors which were found to be limiting building activity were a shortage of labour, followed by concerns over finance and shortage of materials.
In particular, demand for brick layers grew significantly on the previous quarter, with a net balance of 71% of respondents now saying that they are in great demand.
However, despite the concerns, 43% more surveyors in Scotland expect to see profits increase, rather than decrease, while 38% of respondents said they expected to hire more people in response to the rising workloads during the next 12 months.
Rics Scotland director Sarah Speirs said: "Unprecedented housing demand and the bounce back from a very deep recession are translating into prominent growth in workloads throughout Scotland.
"With a lack of housing supply identified in the recent Scottish Housing Commission reports, it is encouraging to see a growth in construction activity across housing sectors.
"Of course factors impacting construction activity, such as skill shortages and material shortages, must be addressed if we are to avoid capacity constraints, but it is equally important that the underlying framework for effective planning and delivery of projects is in place to ensure long-term construction growth that is evenly spread across the country."