Scottish economy: Manufactured exports grow by 2.8%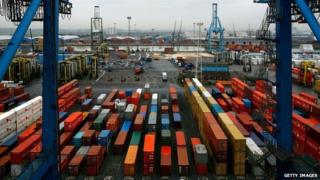 The volume of Scottish manufactured export sales grew by 2.8% during the second quarter of 2014, according to new statistics.
The figures were lifted by strong performances from the chemicals and engineering sectors.
However, there was a slight quarterly fall in figures for the food and drink sector.
On an annual basis, the overall volume of exports from Scotland increased by 0.5%.
The Scottish Index of Manufactured Exports showed exports of refined petroleum, chemical and pharmaceutical products grew by 4.4% over the previous quarter, while overseas sales by engineering and allied industries rose by 4.7%.
Overseas sales for the food and drink sector shrank by 0.2%, largely due to a fall of 0.3% in drink exports.
Over the past year, export sales in the non-metallic product category increased by 11.4%, while metals and metal products rose by 20.3% and textiles, clothing and leather by 10.6%.
Scotland's Finance Secretary John Swinney said: "Manufactured exports in Scotland have grown strongly over the last quarter and the past year.
"These figures reinforce the belief that recovery is being felt across most industries, and follows on from recent GDP figures which show that the Scottish economy moved further beyond its pre-recession peak with GDP growing by 0.9% in the second quarter of 2014, which is the same as the UK as a whole."
The figures were also welcomed by the UK government's Scotland Office Minister David Mundell.
He said: "I welcome the news international exports have grown over the quarter and the year.
"It is more good news for Scotland following a record fall in unemployment, a rise in private sector jobs and our economy growing for two years in a row, thanks to this government's policies."
'Positive indications'
The Scottish Chambers of Commerce said the latest figures showed Scotland's manufacturing businesses had been competing well in the global marketplace.
Chief executive Liz Cameron added: "This reflects the positive indications which we have been picking up from the sector throughout this year and shows that high levels of confidence are being justified by solid results.
"What these figures do not show is the performance of our services sectors, which account for 36% of our international exports, who also have a positive story to tell about growth in 2014."